MTN Group Ltd. shares fell after Nigeria suspended talks about a $3.9 billion fine on the South African mobile-phone company while the country's House of Representatives completes an investigation into the nature of the penalty.
The stock declined as much as 2.9 percent, the most since May 12, and traded 1.5 percent lower at 126.50 rand as of 10:23 a.m. in Johannesburg, valuing the company at 233 billion rand ($15 billion). The shares have plunged almost 35 percent since the fine, originally set at $5.2 billion, was levied in October.
"Any delays in finding a resolution for the MTN fine will play into trading and keep MTN's share price suppressed," Peter Takaendesa, an analyst at Mergence Investment Managers, said by phone from Cape Town on Monday. "The big event to watch this week will be MTN's annual general meeting, where the market might also get additional clarity."
Nigeria's decision to put talks on hold will frustrate Johannesburg-based MTN as it seeks to resolve a fine that was levied for missing a deadline to disconnect customers deemed unregistered in the country, which is battling an Islamist insurgency. The company's stock decline has cost MTN the title of Africa's biggest wireless company by market capitalization, losing it to crosstown rival Vodacom Group Ltd.
"MTN cautions shareholders not to make any decisions based on media reports," spokesman Chris Maroleng said in e-mailed comments. Investors will be informed of any update to the fine negotiations via the stock exchange news service, he said.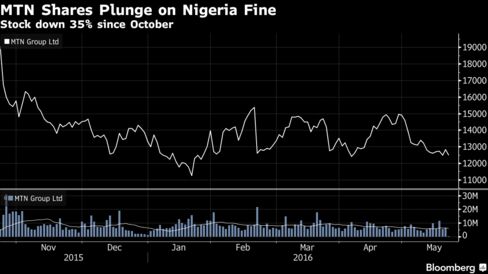 The Nigerian lawmakers "have set up a committee to investigate the MTN saga and they are still on it," Victor Oluwadamilare, spokesman for Nigeria's Ministry of Communications, said by phone from Abuja, the capital, on Friday. "Until they are through with it, nothing can be done."
Executive Chairman Phuthuma Nhleko returned to the helm in November for a six-month term to resolve the crisis, yet he remains in charge having not fulfilled his mandate. He will address shareholders at the annual meeting in Johannesburg on Wednesday.
"The federal government, the Nigerian Communications Commission and the Ministry of Communications can do nothing about the MTN case until the committee concludes its thorough investigation," Oluwadamilare said. "There's no point dealing with a particular organization from different fronts. It would be counter-productive."